Reading Time:
2
min
Una simpatica infografica di Mobiquity da sistemare tra gli appunti di Officina Turistica.
Mobiquity autore dell'infografica
Mobiquity combines the best of human-focused design and data-driven technology, helping you drive meaning for your business and relevance for your customers. Our company is made up of men and women from more than 40 nationalities and we benefit from this diversity in so many ways, most notably in the relevant and meaningful digital experiences we create.
Founded in 2011 with a focus on mobile technology solutions, we've adapted in response to client needs and evolving technology. Today Mobiquity provides end-to-end omnichannel digital consulting services to leading B2B and B2C brands.
Throughout this journey, we've had the privilege of working on a number of digital firsts:
Designing and developing the world's first FDA-approved digital medicine system
Launching a five-star mobile ordering app for a large convenience chain
Pioneering an IT infrastructure that prevented bank fraud through a cloud-based service
Creating the official AWS re:Invent 2017 and 2018 mobile apps
Values at our core
Mobiquity stands strongly for racial equality, diversity of opinions, and respect for all cultures. We conduct ourselves with these ideals in mind at all times.
By listening, questioning, and applying our diverse expertise, we strive to find the most impactful solution in every instance. Whether you're a client or a team member, in all the work we do together you'll consistently experience our core values:
Innovation & Creativity, Teamwork, Excellence,Integrity, and Accountability.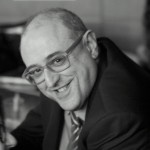 Robi Veltroni è il fondatore di Officina Turistica. Venditore di camere, si occupa di marketing e pubblicità nel turismo da circa vent'anni. Ha iniziato a lavorare in albergo nel 1979: dopo aver vissuto nei viaggi degli altri per oltre trent'anni, si è trasferito in Maremma. Membro del comitato di programma di BTO – Buy Tourism Online. Attualmente è direttore d'albergo, consulente in direzione delle aziende turistiche e dell'ospitalità, formatore in management alberghiero, marketing turistico e web marketing.